Posted:
September 3rd, 2009 |
Author:
Zeus Thaber
|
Filed under:
Family
,
Japan
,
Travel
|
Comments Off

on Travel Weary
This has been one zany summer.
 
In the effort not to be the "says he writes on the internets, but only has 4 posts about how busy he is and that he'll update more later" guy, I've decided to churn out some content. Honest ridiculous content. It seems fitting, what with the new (awesome) web address and all.
 
For the record, I've been back in Japan for about a month. Los Angeles is a distant, and from what I recall, delicious memory.
 
However, my return to the land of the rising sun not only signaled the continuance of the cold reality that has become my 9 to 5, but also the beginning of a two-week long family vacation.
 
And I'll be the first to tell you, nothing makes you feel like a mix between the ages of 25 and 15 years old, quite like a family vacation.
Envision the following conversation in your mind:
 
Ticket Counter Saleswoman: (In Japanese) Good afternoon, how may I help  you?
 
Me: (In Japanese) Uhh…Good Afternoon, I'd like to buy 4 bullet train tickets to Kyoto  from Tokyo. For tomorrow.
 
TCS: Ok, thats 4 adult tickets for Kyoto leaving tomorrow? What time would you like to  leave?
 
Dad: What is she saying?
 
Me: She asked what time we would like to leave tomorrow.
 
Mom: Make sure that it's early.
 
Me: (In Japanese) Er…what time is the first bullet train?
 
TCS: (checks her computer) That would be 7:40 in the morning.
 
Me: (In Japanese) Perfect, we'll take 4 tickets. My family has the tourist rail pass, but I  will need to pay for mine separately.
 
Mom: Be sure to tell her we have the rail passes.
 
Me: I know Mom, I just did. (In Japanese) And all the seats can be together?
 
TCS: That shouldn't be a problem, let me just find a spot on the train. (she checks her  screen again, quickly tapping through the various train menus)
 
Dad: Make sure the seats are all together.
 
Adam: I know, I just did.
*"just finished a 13 hour flight, and 22 some hours of total travel" sigh*
 
Dad: Don't get an attitude with me, I just need to know what she's saying.
 
Me: I'm not, just tired, that's all.
 
TCS: (looking up) Ok, I found 4 seats all together. Will you be paying for the 4th ticket  with cash or credit?
 
Mom: Don't forget that you have to pay for your ticket.
 
Me: (In Japanese) I know. (switching back to English) er… I know, Mom!
 
Me: (In Japanese) Cash is fine.
 
Mom: Tell her we'll use cash…
 
Now, take that conversation, and multiply it by 50. I guess I should have seen it coming, such is the name of the family travel game, some sort of karmatic punishment for being the most proficient Japanese speaker in the family. Silly me.
 
As a result of my experiences, I've come to the conclusion that being a tour guide would be the worst job ever. Especially in this context, when I would get the inevitable, "Where is [insert any place here]?" to which I would reply in what I hope was the least sassiest tone possible, "I don't know, I've never been here before."
 
I have to give the family credit though, it was a pretty hustley bustley first week. We walked everywhere, and for three jet-lagged midwesterners who are used to driving places that makes for pretty grumpy results. And all in all they did pretty well.
 
That was the downside.
 
I know this isn't a travel blog, but check out the upside. (as always, click to big size them)
 
The famous Golden Temple, Kinkaku-ji (金閣寺).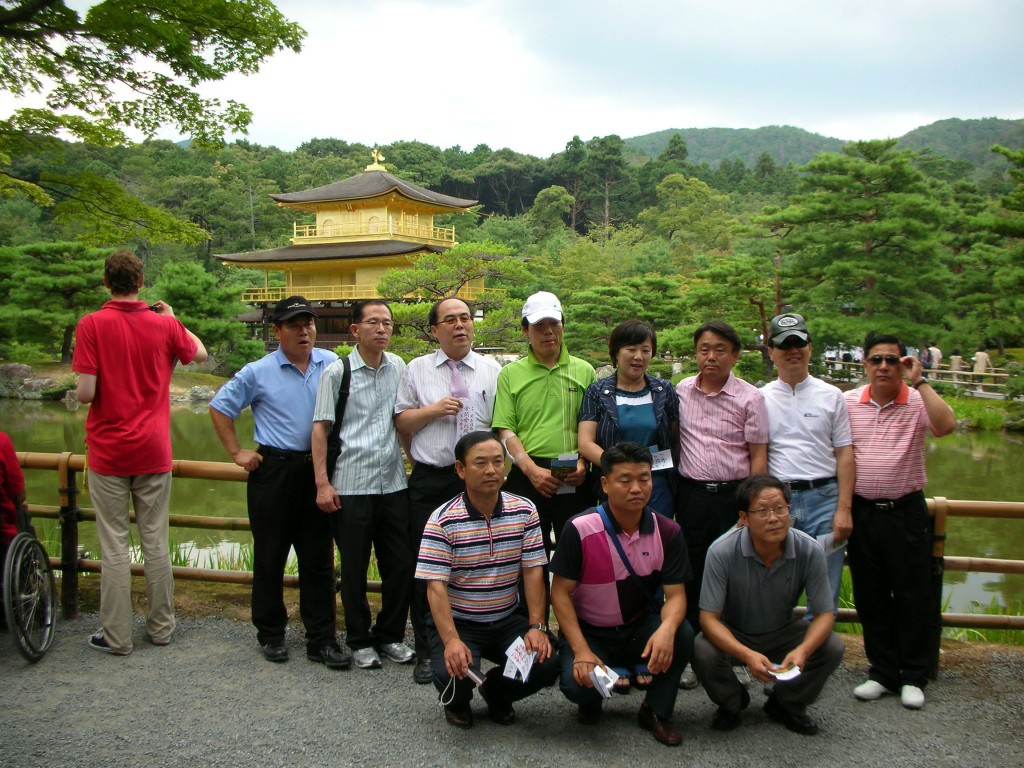 My family, you can see Mom and Dad in the middle, with my 9 uncles on the sides.
 
 
(Ok, not my family, but I think taking pictures of strangers posing for another photo is hilarious, and I suppose, by default slightly weird.)
 
 
Part of Miyajima Island (宮島), taken from our Japan Rail Ferry. (The funny part was how they announced the next stop just like they do on JR trains. What they should have said was, "Next up, the only island this boat has ever, and will ever go to".)
 
Pick-pocketing Deer! (掏摸シカ!)
 
All right, that is all for now.
 
Perhaps we'll see some more content later.
---